Reincarnation:
In the year 553 A.D., 165 Church officials condemned reincarnation. Prior to that time, it had been a fundamental Christian teaching: following the trail of a conspiracy that changed the world.
Reincarnation is a fact. That it is no longer a part of today's Christian beliefs is due to one power-hungry woman who had all references to reincarnation in the early Bible removed. A seemingly small act with historical consequences: how different would the history of the last two millennia have been if mankind had known that they themselves would reap the fruit of their (mis)deeds in a future earthly life—that they would have to sleep in the beds they had made?!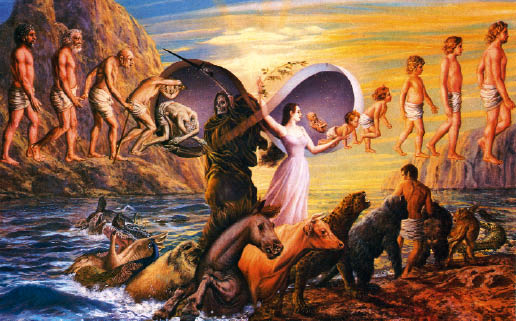 The law of Karma and reincarnation: In an endless cycle, we return to earth until we have learned to control our energies.
At the beginning of the Christian era, reincarnation was one of the pillars of belief. Without it (as later happened), Christianity would lose all logic. How could a benevolent, loving God give one person a silver spoon and leave the next to starve in their ostensibly only earthly life? Early Church elders and theologians, like Origenes, Basilides and St Gregory, taught reincarnation of the soul as a matter of course—it was written in the Bible, after all. Nowadays, most Christians suspect blasphemy if someone references reincarnation.